I told you i wanted to do at least one more review for the Challenge Romance and Me so here is my last ( except if i manage to read and review another book today) review of this month for the romantic suspense genre.
It's the second book of the Law of Lycans series and at the moment the book i loved the less for this suggenre and for this serie too.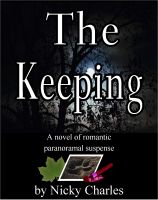 Genre: Romantic Paranormal suspense
Pages:287
Langage:mild
Sex: strong
Violence: strong
Public: 18+
Source: free download on Smashwords.com
Ryne Taylor was a sexy bad-ass Alpha set on establishing a new pack. Melody Greene was a journalism student researching his work as a photographer—or so she said. But could Mel really be trusted or had she stumbled upon his secret? And if she knew, could Ryne save himself and the pack he'd left behind without enacting a deadly ancient law known as The Keeping? Sequel to The Mating.
My opinion:
As much as I loved the prequel and the first book, I had a lot of difficulties with this one. The beginning is really slow, so slow that I had to put it aside, read several others books before continuing reading this one and that's because I don't like giving up.
The book complete isn't bad but I've got the feeling that he wasn't well balanced, there wasn't an equilibrium the beginning is really slow and the second part of the book is filled with tension and urgency. We don't get the feeling the urgency is growing slowly until the culminate point not it just drops like that on the reader. Also, I managed to guess some important part of the book around chapter 5… too quickly for me. So the intensity wasn't constant. And you have to go to the second part of the book to start to feel immersed in the book.

Ryne is being an Alpha just adequate and for me it clash with what we saw of him earlier. I mean he needs his second to calm him and the third one to dispel any misunderstanding with the humans…it should be him that keeps his cool but no. After that, he isn't violent enough when it's required.
Melody is being a stupid girl, once she has moral and ethic, the second after she is just money hungry. After, again, she changes. Either she is loyal or she isn't, there is no middle and circumstances. For me okay she is just a student reporter but still she should know what she want and stay true to it not act like she did to do the opposite after.
Given all the things happens, I'm surprise Kane didn't take over, it would have been a normal decision with all that was at stake. I'm also sad for Lucy, she deserved better and it could have worked with another twist of the plot.
To be honest, now I 'm quite apprehensive to read the third book, I will do it yes but not too soon and only because I know that the prequel, written later, is really good so I hope I will love the next book like I did the first one.
Book read for the 2012 TBR reading Challenge