Hello friends!
I have a good news for you, if you enjoyed my review on The Sunset Witness by Gayle Hayes you have until the 29 february to get it for free on Smashword so give it a chance. You can find my review
here
, if you want.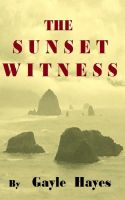 The Sunset Witness
Free
on
Smashword
until the 29 February by using the
coupon code CV89Z
Don't hesitate too long and enjoy.