Hello to all,
Since i've got a few minute to share my opinion with you i decided to follow up a series i started last year and liked a lot The Sin brothers series by Rebecca Zanetti.... i like a good romantic suspense and when a touch of paranormal is added it's simply even more delicious to read.
As a bonus the last book in the series released recently so now you can enjoy it in it's entirety without having to wait.
Happy reading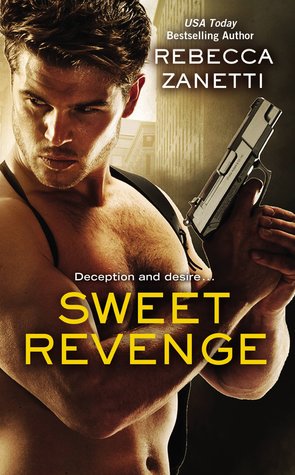 Genre: romantic suspense
Violence: strong
Language: normal
sex: strong
Public: 18+
Source: won
The One Man She Can't Have
Matt Dean was born to fight…and kill. A member of a secret black-ops military unit, he and his brothers were genetically engineered by the government to be the perfect soldiers with an expiration date. Now, with time running out, he's gone rogue in a relentless quest for the one person who can save them. His mission leads him to Charmed,
Idaho
…and to a beautiful woman with eyes like emeralds and a body made for pleasure.
The One Woman He Can't Resist
Laney Jacobs knows the mysterious, handsome stranger is trouble from the moment he walks into her bar, looking for a job. She's spent years running from her own past—the last thing she needs is a romantic entanglement. But Matt's strong arms offer her protection, and his gentle touch promises passion unlike anything she's ever known. As lethal forces surround them, revealing explosive secrets about Matt's past and putting everything—and everyone—he holds dear in danger, can he save them all before time runs out?
Since I loved book 1" Sin forgotten" I could not wait to continue the adventure with the Gray brother and "Sweet Revenge" did not disappoint.
Rebecca Zanetti focus the romance on the elder brother Matt , but while the romance is important and quite steamy she also does not neglect the investigation part of the story and it's something I absolutely adore. Matt is looking for the surgeon who implanted the chips who threaten his life and his brother's, his search leads him to Charmed, a small city, where he finds a job as bouncer in a bar where the owner, the sweet Laney, rescued him when he was hurt in the alley.
For him this job is the perfect cover but it's not counting the deeper attraction he feels towards Laney. Burdened by the guilt of his younger brother, Jory, death , he wants to stay focused on finding the surgeon and via her perhaps the key to their survival. However, when murders start happening in the small town he gets determined to protect Laney no matter the cost before learning her true identity because in this town secrets are numerous and the investigation far from easy.
I really loved how the author managed to keep the main story arc flowing while adding the actual investigation and building it so well that the suspense stays until the end and have surprised by several twists along the way. The investigation is really center in the story while well intertwined with the romance making the book one we can't stop reading until the last page.
The action is quick and strong. Matt is a real protector all alpha but so deeply hurt you want to comfort him and Laney is a good heroine, I did not like her as much as I loved Josie but I could get attached.
If you are looking for a romantic suspense with a light touch of paranormal this is really the perfect story to try and this book could be read as a stand alone if necessary but I do recommend you to read them in order it's so much better…. A light cliffhanger is at the end but nothing you could not survive especially with the next book already released.


Score: 4,5/5
Disclaimer: All opinions are my own and no compensation was received in exchange for this review