Hello to all,
Last day of November so last review of the month, today i will share with you Heart of Darkness by Felicity Heaton, a paranormal erotic romance. I will certainly review a few more books ogf this category since i still have 2 or 3 of them, from authors i already introduced to you, but it will be for later because starting tomorrow i will be in Holidays books ( not only i think but it will be my main focus)
Enjoy!
Publisher: Felicity Heaton
Genre: paranormal romance, erotic romance
Violence: strong
Language: normal
sex: strong
Public: 18+
Source: won
A vampire prince on a four hundred year old mission to avenge his murdered sister...
Aleksandr Nemov won't stop until the last of the vampire hunter's progeny is wiped from the Earth. Each kill has stolen a piece of his humanity, pushing him towards the black abyss all vampires hold within their hearts. Now he is teetering on the edge, close to devolving into a beast, and time is running out as he tracks the last hunter to
Prague
. There he finds a beautiful woman who could be his one chance for salvation, but is it already too late for him?
A vampire guard who will do whatever it takes to protect those she loves...
Elise is dedicated to her duty. It's the only thing she has left. All that changes when she meets Aleksandr in
Prague
and her master grants him permission to stay at her bloodline's mansion. She knows all about Aleksandr but none of it prepares her for how she feels when the legendary prince's hunt becomes one for her heart. Elise battles him with all of her strength but can she stop herself from falling for the handsome hunter? When he reveals the depth of the corruption in his soul, will she have the strength to face the pain in her past and do whatever it takes to save him?
A romance so well written, in perfect concordance with the story. I loved it. Felicity Heaton created an interesting world and I was easily swept by it, we get soon a background of the vampire society even if the author focuses on the romance. The balance is just as it should be, we have enough to understand the situation, the characters' reactions and such but not too much s to concentrate on it. We delve more on the political ties and Aleksandr's past later in book when we get his side of the story and the insight of Elise on the hierarchy and such.
I loved to see how Aleksandr starts to understand Elise and is unsure how modern women like to be treated. He thinks of his past and start doubting or to be more exact he becomes conscious that he had doubts about his chosen path for some time now. His sanity is compromised and he didn't see he needed someone to believe in him, to accept what he is doing. Alone for so long with his desire for vengeance, he forgot to live. Felicity Heaton really described well his psyche so we can understand him and take a liking to him no matter how bloodied he can be. Elise is different, she is not trying to catch his interest, doesn't flatter him, she even tries to elude him however she sees him for what he is, a noble man, honourable who takes high risks to protect his own. As a female guard, she always put her duty before everything else, trying to be perfect but she was unprepared to be seen as a woman and a beautiful one. Strong and fragile at the same time, she can't believe he could have real feelings for her and since she refuses to be a plaything she tries to avoid him and his flirtations even if she is far from unresponsive to his charm.
They are playing a bit the cat and mouse and the roles are inversed more than once but it's wonderfully described and I was completely in it.
There are some steamy scenes…gradually steamier even but it fits the story, the terms are well chosen, not vulgar at all and I liked those, not necessarily my favourite parts of the story but they didn't bother me at all coming when it was needed for the main plot and not just for fun of it ( in a way).
Really a good book to recommend to lovers of erotic paranormal romance above 18.


Score: 4/5
Disclaimer: All opinions are my own and no compensation was received in exchange for this review
Book read for the 2012 TBR reading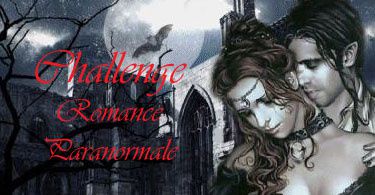 To join in, copy and paste these rules and the above banner into your Fanged Mania post and add your link to this week's Fanged Mania post at Elisabeth Wheatley's Blog. Fanged Mania is a Friday meme

counting down to the release of Fanged Princess and displaying all things vampire and awesome. Fanged Mania posts can be a review of a vampire book, a quote from the latest Vampire Diaries episode, a showcase of a cool vampire book's cover, or whatever you like so long as it is vampire related. Don't forget, participants will be entered in the drawing to win a fanged-abulous prize pack!