Hello to all,
In my country today is an holiday so it means i finally get some reading time and i sure enjoy that....however i'm taking a break to share my opinion on a book with you because if you hurry you can not only get it free but also participate in a read along so better not hesitate you won't regret it.
So without more delay here comes my opinion on "The Librarian's Vampire Assistant"
Happy reading!!!!!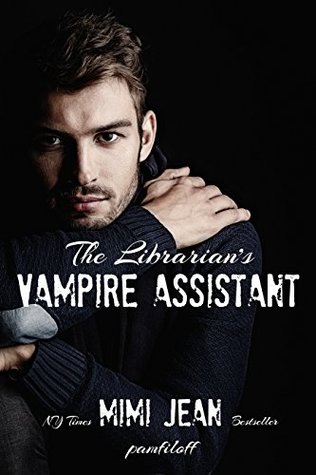 Genre: romantic suspense, paranormal mystery
Violence: mild/strong
Language: normal
sex: mild
Public: 18+
YOU
Description
from goodreads :
From New York Times Bestseller Mimi Jean Pamfiloff comes a Horribly Sunny Mystery, The Librarian's Vampire Assistant.
NOBODY MESSES WITH HIS LIBRARIAN. . .
Who killed Michael Vanderhorst's maker? It's a darn good question. But when the trail brings Michael to hellishly sunny
Phoenix
,
Arizona
, his biggest problem soon becomes a cute little librarian he can't seem to stay away from. He's never met a bigger danger magnet! Even her book cart has it out for her. And is that the drug cartel following her around, too? "Dear God, woman! What have you gotten yourself into?"
Things go from bad to worse when local vampires won't play nice.
Can this four-hundred-year-old vampire keep his librarian safe and himself out of hot water? Can he bring his maker's killer to justice? Yesterday, he would've said yes. But yesterday, he didn't have a strange connection with a librarian. Yesterday, people weren't trying to kill her
I really loved this paranormal romance mystery , it was refreshing and funny!

original as well because for once the vampire isn't the boss -oki among vampires he is- the human girl is her boss in the normal one and poor vampire is only a librarian assistant so no high class job.
I particularly loved the fact that it was his choice. Miriam intrigues him and he wants to understand why especially since she isn't a top model and more clumsy than he could have imagined adding the fact some are targetting her

then his need to protect her jump into action with some consequences he wasn't looking forward like a bond with an human. Michael is on the hunt to find his the one who killed his maker, not looking for love and he has zero experience with turning or the general rule with a bond between humans and vampire.

The law he knows the how, consequences, effects he is only guessing since he had

no interest in that for 400y.
I loved the fact that no matter how strong he is he still has to learn. he best part? He is a books lover!!
The secondary character like Lula are funny as well, she needs Michael as she is younger than him but she also understand him and second him the best she can even when she disapprove his decision. Some members of the council are more than funny as well.
The investigation is captivating, there is a lot of humour and action and a touch of romance : the perfect mix! I can't wait to get my hands on book 2!
Disclaimer: All opinions are my own and i voluntary reviewed this book