Hello to all,
Sorry if i have been a little silent this week but my health isn't great and i was planning something for the week so you will have some posts coming.
Anyway today i'm sharing with you my opinion on a story that was released last week Snow SEAL, it's a kindle Worlds book focusing on seal and since i do love military romance suspense i had to discover it i haven't read the main series it's linked to but one day i will.
Now thanks to the author kindness i could have a copy to give you my opinion on the story so here it comes.
Happy Reading!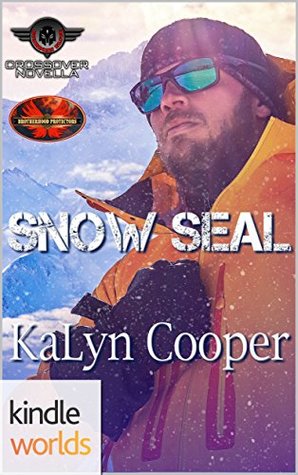 Genre: romantic suspense
Violence: strong
Language: normal
sex: steamy
Public: 18+
Source: earc
Terrorists want her…but so does he.
Isaac believes this personal protection assignment in Big Sky,
Montana
is going to be filled with skiing novice slopes all day and spending his nights fending off unwanted pursuers of the pampered daughter of two
Atlanta
physicians. He couldn't be more wrong. Hannah Kader was an officer in the all-female YPG Battalion in the Syrian Army, and
ISIS
wants her, preferably alive. The chase isn't the only thing that heats up when the flint of the former SEAL strikes against the steel of the woman warrior.
Snow SEAL is a Guardian Security crossover with Elle James's Brotherhood Protectors. If you enjoy heart-pounding, military romance interwoven with sizzling passion, you'll like the fourth book in this novella series.
Buy this book and let KaLyn Cooper take you on a thrill ride through the
Montana
mountains.
As it's the principle of the kindle worlds book this story is set in a pre-existing universe/series since i haven't read it i had no prior knowledge of the characters but it didn't prevent me to enjoy this story a lot as it works really well as stand alone.
What was the most interesting was to see how the author choose a really strong female character. Hannah isn't a simple damsel in distress, she doesn't hesitate to fight for what she believes in and at the same time she still has a kind of fragility that makes her even more adorable.
Isaac is an interesting character as well, loyal he has a shady past we only have glimpses about but he is a good man and great friend.. i guess i would have loved if he had been a little more focused on the job or at least longer but i guess it's hard to resist Hannah.
This book has some very steamy scenes but a real plot and doesn't lack action ; it's well written.


Score: 4/5
Disclaimer: I received an Earc and i voluntary choose to review this book