Hi everyone!
Today i'm not doing things as i would have wanted....first i wanted to post this earlier this week but time flew and....it's kind of a sequel and i still haven't posted my opinion on book 1 ( but you will get it soon don't worry).
Anyway, this can be read alone so it's not a problem and it's a new release so even better...
Happy reading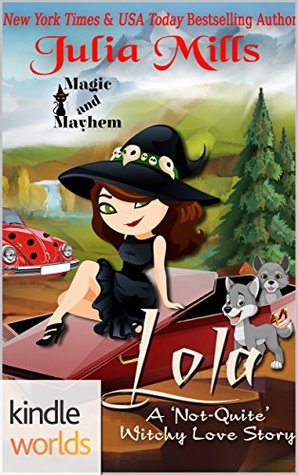 Genre: paranormal romance, humour, comedy
Violence: mild
Language: strong
sex: strong
Public: 18+
Source: arc
The Asscrack Gang and I are about to get busy!
Being single in a world where everything is thorn-covered roses and bags of bloody bones sucks! Heidi's got Hunter, Bert's got Luci…hell, even Lucifer's got Trixie and then there's me, the sexiest alter ego this side of Purgatory… stuck inside a Hellhound who's happier than a zombie at the body farm in her new wedded bliss. Sure, Heidi and her Hunkie Hellhound hump like rabbits getting ready for Easter but even that's gotten boring. I need to get out, see the Underworld, sow my wild oats. I mean, a girl's gotta get hers while the gettin's good, am I right?
It's taken six long months of bitchin'… I mean persuading, but Heidi's finally agreed to let me have a body of my own. So, it's back into the Lady Bug Express and off to West Virginia, but this time we're avoiding the crazy Aunties and heading straight for Asscrack. Zelda, the next Baba Yaga and Almighty Shifter Wanker has agreed to help. She plans to yank me outta Heidi and shove me into a fresh new body before the next full moon. Then it's bingo bango, Lola's gonna get her groove on.
It looks like I might even end up with some powers, seems Katie, the chickie whose skin will now be mine, was a witch before she hocused when she should have pocused. I might have to sidestep her sisters and hideout from some vamps but it'll all be worth it. Imagine the possibilities… me with magic. I'm positively giddy at the idea.
The plan is flawless. I mean, come on, what could go wrong?
If you need to laugh and only have time for a novella this one should be perfect for you. Could be better if you read Heidi first but it's not even necessarily you can be swept into Lola story without more knowledge of this universe it works perfectly as stand alone.
Since it's a novella i don't want to spoil too much as the description is already quite instructive but if it's your first Julia Mills in this series you would be surprised. Lola is a personality and she doesn't watch her tongue one bit at all...no filter, she loves fun, fashion, having love affair when she wants....no string attached. She want to be free and independent....being part of Heidi of course doesn't help at all so when offered the opportunity to have a body of her own ( or to take one that was " left off") she doesn't hesitate at all.
It's really a funny read and i particularly enjoyed the fact that steamy scenes don't happen before the end of the book because there is really a story and it make sense.
If you have the opportunity to try it don't hesitate ( and for those outside the US without access to kindle worlds you can contact the author, she is a pearl)


Score: 4/5
Disclaimer: All opinions are my own and i voluntary reviewed this book