Hi!,
oki after thinking a lot about it i decided to join some new challenges hosted by bloggers i trust, i think i will have a part 3 if not a 4th one because i tend to join many challenge but i decided this year to take it easy so i start at the lowest level possible and move up if necessary and i do select some where a review can be used in different challenge it will help my motivation without adding too much pressure( and if i do win something it would be a great bonus).
Here are those i join today, both are all year long to avoid the stress of a short time limitation
First :the 2014 Fur & Fangs reading Challenge
For this one you set your own goals which is fabulous, so many book with a vampires or a werewolves ( or fur shifters) do i plan to read....at least a global of
15 books
but how many vampires ones and how many werewolves ones i really can't said. They are often included in my main favourites genre so it should be possible and if i do read more, even better
you can suscribe
Here
on
Phantasmic Reads
and here is a small part of the rules to motivate you to join too
This challenge will run from January 1st, 2014, until December 31st, 2014.
Books must be started on or after January 1st, 2014 to count.
Books can be any publication date and any genre, as long as at least the subject or one of the main characters is a vampire or werewolf.
Any other shifter with fur can also count. (i.e. cats, tigers, bears).
Sign ups will be open until December 1st, 2014
Next, because after vampires and werevolves i could need to change my mind a little let see about... the witches!
2014 Witches & Witchcrafts reading Challenge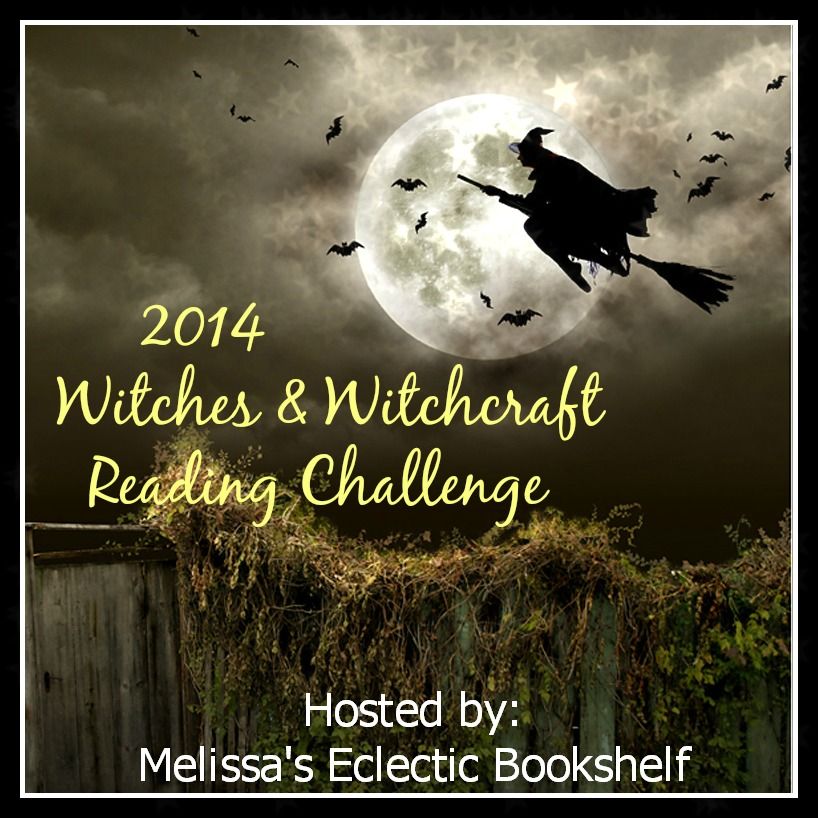 The level to start is also low which is great so i will try for the
level 1: initiate
that means reading at least 1 book ( and up to 5) however i really can't tell which one as of yet.
You can sign up
Here
on
Melissa's Eclectic Bookshelf
As for the rules here there are.
This challenge will run from Jan 1, 2014 – Dec 31, 2014. I will be posting a place to link up a sign-up post (below), reviews and a wrap-up post. (Note: You do not have to review the books to participate, but only those who link up reviews will be entered for the prize)

Grab the reading challenge button (code & button below) and post this reading challenge on your blog to track your progress. Please include a link back to this sign-up post so others can join the reading challenge too. You do not have to be a book blogger to participate- you could track your progress and post reviews on Goodreads, Amazon, Barnes and Noble, Smashwords, etc.

Any full length book that includes a witch as a main character or includes major witchcraft elements counts. They may be fiction or non-fiction. However, they should not be reference books which are not read cover to cover-I will leave this to your discretion.

Books can be any format (bound, eBook, audio).

Re-reads and crossovers from other reading challenges are allowed.

You can list your books in advance or just put them in a wrap-up post. If you list them, feel free to change them as the mood takes you.

When you sign up in the linky put the direct link to your post about joining the 2014 Witches & Witchcraft Reading Challenge, not just a link to your blog.

You can move up levels, but no moving down.

Sign-ups will be open until Dec 15, 2014, so feel free to join at any time throughout the year.

Have some Witchy Good Fun !!!
So, quite easy for these ones don't you think? interested to join?
I will keep my progress updated on the special page for 2014 Challenges so don't hesitate to have a look from time to time or to give recommendations if you have any.